Master Luthier Fabio Ferlini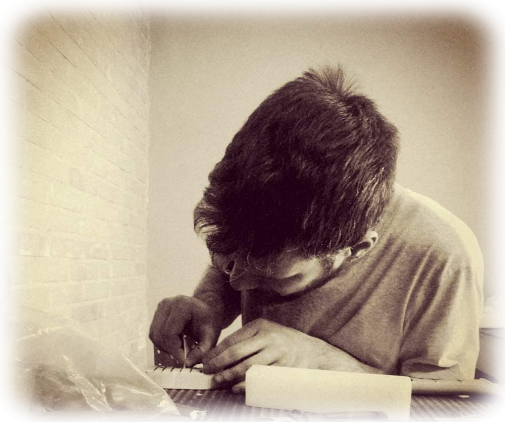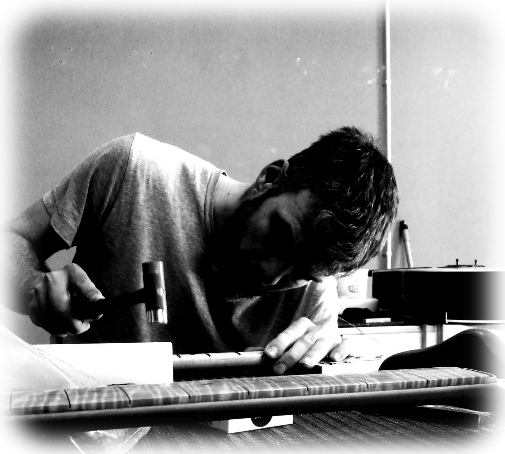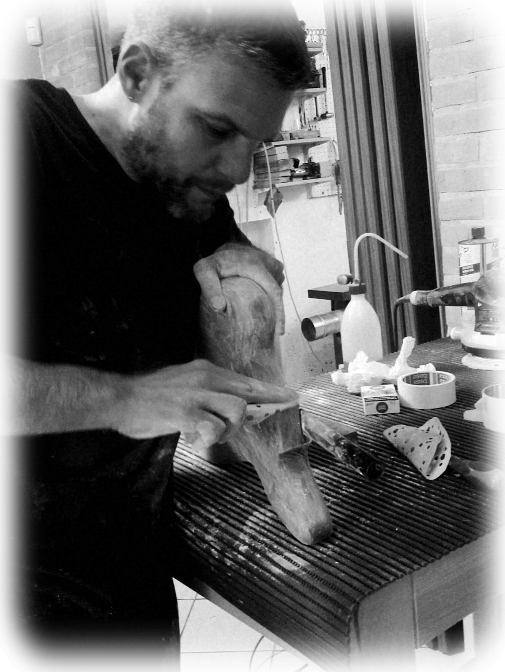 His own story
Luthier
Born in Molinella in the province of Bologna in 1981 he approached the world of guitar making at 16, driven by a passion for music but without the economic means to buy a musical instrument. One day, going to the bus stop, He
finds a battered classical guitar abandoned next to a dumpster. Hence the idea of trying to fix it to learn how to play. He succeed in repairing the guitar and he began with a friend the first steps as a guitarist; then he joined a band that broke up a few years later.His disappointment was very strong and, unable to find other bands, he cultivates his passion by making repairs and setups for friends and villagers .In 2000 he rented an old winery that he had to abandon by the will of the owner; He moved to his parents' garage in 2001 where he continued to refine the practice until 2005 when he rented a warehouse in the craft area of Molinella and created the brand LMF Custom Guitars. In that period he joined a partner who then left the project in 2007 and the brand changed to Fabio Ferlini Luthier.From 2008 to 2012 he continued to work with great passion investing all the time available in the art of modern violin making and acquiring customers first in the molinellese area then expanding into the neighboring municipalities.
In November 2012 he bought a workshop near the center of Molinella and from that moment he began to perfect in every detail his technique coming to work for professional artists like Vince Pàstano (Vasco Rossi, Carboni, Marc Urselli winner of 2 Grammy Awards, Roy Paci, Pino Daniele, Fabri Fibra, Guido Elmi), Mauro Patelli (Luca Carboni), Antonello D'Urso (Carboni, Branduardi, Battiato, Alice), Maurizio Solieri (Vasco Rossi; Steve Rogers
Band), Giorgio Santisi (Morandi, Arisa, Iskra, Poggipollini, Pee Wee Ellis), Marco Dirani (Tozzi, Annalisa Scarrone), Antonino Stella (Witchwood), Ignazio Orlando (Carboni, Dalla, Malavasi, Morandi), Mattia Bigi (Biagio Antonacci), Braz (Nomadi), Daniele Dall'Omo (Paolo Conte).
Since 2013 he collaborates with many activities in the province of Bologna such as Casale Bauer, Aramini Musical Instruments, Borsari Musical Instruments, Res Rubini. He takes care of the pre Tour setups of the guitarists and bassists of Luca Carboni, Vasco Rossi, Battiato, Branduardi, Alice and Biagio Antonacci with assistance also during the Tours. In 2011 he was awarded by the Chamber of Commerce of Bologna among the first six craft activities as creativity with the award Young Entrepreneurs. In 2013 he launched the Garisenda model tested for 3 years by Antonino Stella and now occupies the stages of Alice, Branduardi and Luca Carboni with Antonello D'urso, Luca Carboni with Mauro Pat Patelli. Then the model Neptune (very popular in Russia and played by Antonino Stella in Witchwood), Navile (suanato da Vince Pàstano nel Popup Tour 2016 di Luca Carboni e Vascononstop Live 2019 nelle 6 date a San Siro e Cagliari), Costa (played by Marco Dirani in Ora o Mai Piu' Rai1 2018 and Trivarico's new 2019 album), JM (played by Vince Pàstano on Luca Carboni's Sputnik Tour 2018). In 2016 he started the project "Bottega d'Arte Sociale" where he received numerous feedback, arriving today with eight students and qualification of Master Luthier. In 2021 he expanded the project on the city of Imola by focusing on teaching those fragile people by implementing themes of recovery of Mental Health, Addiction, Abandonment .
In 2011 He refined the production of pickups for guitar and bass in great demand in Germany, England and Holland.
"
I have always thought that the supreme joy of the guitar lies in its being a voice, a vehicle for expressing emotions, for every child, of any age, who takes it in his hands. We are all still guys with a guitar in hand, and it makes little sense to discuss who is the best
".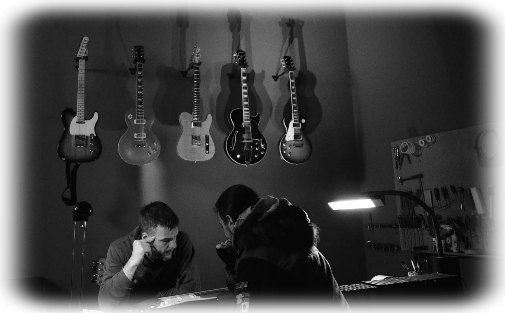 Repair and Construction
If you have a tool to repair or want a craft tool please contact us.